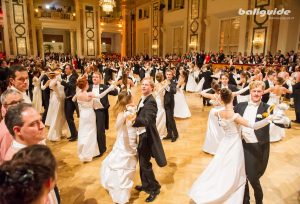 Ball season in Vienna is a huge part of Austrian society, and more than 450 balls take place in Vienna each year. Over 2000 hours of dancing unite the crème-de-la-crème of Austrian high society throughout January and February, though anyone can attend with a ticket and some fancy clothes. Just be warned, you'll be expected to waltz!
Here are just a few of the more famous balls that take place each year:
Ball of Vienna Philharmonic
In January each year, the Vienna Philharmonic Ball takes place in the historic Musikverein, which transforms one of Vienna's best concert halls into an elegant dance floor. The entire building is decorated with flowers for the festivities, and the president of Austria attends every year!
Vienna Coffeehouse Owners' Ball
One of the many profession-oriented balls, the Vienna Coffeehouse Owner's Ball is one of the most renowned. The Imperial Palace provides an exquisite backdrop to the endless music and dancing, as well as food, and coffee of course!
Opera Ball
Artists from all over the world gather to take part in one of Vienna's most extravagant balls. The Vienna State Opera Orchestra performs under the baton of distinguished conductors, alongside performances from the Wiener Staatsballet and other international stars.
Bonbon Ball
Now an integral part of any confectioner's calendar, the Bonbon ball has been around since World War 2. It is now famed for its crowning of 'Miss Bonbon' each year, selecting a young lady each year to travel the world as a representative of the sweets industry.
Fête Impériale
The Fête Impériale is one of the few balls to take place outside the season. This summer ball revives imperial elegance for one night each year in the iconic Spanish Riding School, with processions, debutants, traditional dancing and much more.