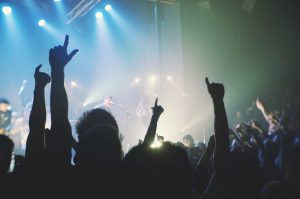 The Viennese nightlife provides all different kinds of music, styles and locations. Whether you like electronic or rock music, prefer elegant, chic and cool stylings or wish for an alternative scene, want to listen to live bands or desire the beats of a DJ, Vienna has it all for you. Experience unique and historical locations such as former cinemas, theatres, palaces or even manufacturing buildings. 
Vienna may be known for its rich classical music history, however, the city has recently become associated with electronic sounds. Techno, disco-beats, house, drum and bass, trance and minimal are just to name a few genres you can find in the Viennese clubs.
And if you are wondering which is the best student club in Vienna, we would definitely say U4. Every Tuesday the club offers the best student nights in the city, guaranteed fun and party atmosphere. It has a rather open door policy, good music, cool drinks and student prices. Guests over the years have included Prince, Kurt Cobain, Johnny Depp, Courtney Love and Falco. After a 6-month renovation at the end of 2005, U4 added the newest technology and regained its former glory. This is the city's most legendary disco, which held concerts by Grace Jones, Nirvana and Prince. It is without question one of the happiest places in Vienna.
And here you can find a list of the other club-scene in Vienna:
Stadtbahnbögen (City Rail Arches): Located along the line U6 you will find many small clubs that are popular among students. The clubs fill up quickly – also during the week. Most popular clubs at the arches: Ride Club (U6 Nussdorfer Strasse) & Kju (Michelbeuern). The clubs either have free entry or max. €5,- cover. Most of them have very attractive happy hour offers.

Bermuda Dreieck (Bermuda Triangle): An area in the first districts with small bars/clubs. Alternatives to the rail arches during the week. 

Travel shack is a bar but has a second room that opens at around midnight and turns the whole place into a Club. International Students, reasonable prices and guaranteed fun.

For-everyone-clubs: Volksgarten is one of the oldest and most famous clubs in Vienna. Especially popular in the summer for its outdoor area and the roof that can be opened. Watch out for specials like international DJ's.

Berlin-like: "Pratersauna". Big outdoor area and hip people dancing to electronic music. 

Praterdome is the biggest club in Vienna and famous for the laser show. Several dance floors with different music. Easy to get lost in this big club!

"Posh" clubs: The clubs to see and be seen. Very strict with dress code. Expensive drinks. Examples: Passage, Platzhirsch. 

Alternative-style club: If you prefer a more alternative style and not care about dress codes but enjoy heartbeating drum & bass music, FLEX is the place for you! Flex is known for its sound system and alternative party crowd.

Live Music clubs: If you want to listen to live music, you should check those clubs: Albertina 
Passage, Porgy & Bess, Chelsea, B72, and Rhiz.