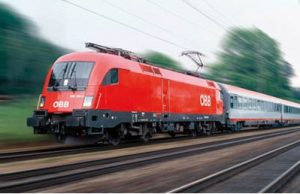 The Vienna train station network is very well developed and takes you pretty much anywhere you want to go. There are several main train stations in Vienna. Like most major cities, Vienna has several main-line stations used by all services and a selection of smaller regional stations used by the regional service.  Big Vienna train stations have three different services:
the main rail service
the regional rail service
the city underground trains
Hauptbahnhof
The size of the newly opened Hauptbahnhof (U1 station Hauptbahnhof), Vienna Central station, is  109 hectares!
Westbahnhof
The newly renovated Westbahnhof (U3 or U6 to station Westbahnhof) is a major Vienna train station and used to be Vienna's central station. The station is located on Vienna's most famous shopping mile, Mariahilferstrasse. Over 40,000 travelers use this modern station on a daily basis:
The following routes are available there:
All eastern European capitals and biggest cities: for example: Budapest, Bukarest, Belgrade 
To Germany: for example:Munich, Frankfurt, Hamburg, Berlin
To Austria: for example: Salzburg, Innsbruck
Longer distance routes to Paris, Amsterdam, London Barcelona or Madrid are also available there.
OEBB

Coming to Vienna means using public transport (buses, trans, trams etc.) a lot 🙂 you should know everything about ÖBB.
Österreichische Bundesbahnen or ÖBB is the national railway system of Austria that now manages;
9,740 km of tracks 
788 signalboxes 
247 tunnels 
6 207 bridges  
The ÖBB has: 
4 859 km, 
1 128 train stations and 
ÖBB's bus services travel 52 500 000 km per year.
Isn't that cool ??! 🙂
Tickets
Prices based only upon distance travelled, regardless of when you buy the ticket and which train you take. How do exactly tickets work? If you going to travel from Vienna to Krems, for example, that ticket is valid for any train that takes you to Krems.
How to buy a ticket?
You can buy ticket online. You can also reserve seats, but be ready to pay a small fee for it. You really need a seat reservation when you travel with luggage. Tickets ordered online should be printed and presented to the conductor on 
board upon request. 
There are ticket machines at some train stations. When boarding regional trains you are required to have purchased ticket before boarding. We advise you to buy a ticket at railway office or vending machine at the station you are departing from.