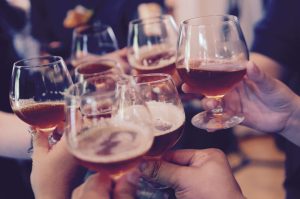 Vienna has a big, thrilling and colorful nightlife-scene with bars and clubs suited to every taste and mind set.
Bars in Vienna are spread out all over the city and are popular places to hang out and chat, as well as pre-drink before hitting the clubs.
We have a few that stand out for us.Check out our favorite hang-outs below!
Travel Shack- Vienna's one and only backpacker bar
This one we strongly recommend. It's Vienna's backpacker and international student bar. When it comes to nightlife in Vienna, it's definitely a must-see. You can party in casual atmosphere with nice music and like-minded people. It offers a wide selection of drinks and their crazy and unique shots, such as Fire Shot, Chuck Norris, Snuff Shot and many others worth trying. It has a good crowd every day of the week and it turns into a club later at night.
It's also a perfect spot for sport lovers who can watch football, rugby, basketball, hockey and other matches on large screens. Every night there are special themes and drink specials.
If all this doesn't appeal to you, have a look at our other suggestions:
La Boule– It's a café bar, where you can play pool. It's very well known as a nice, chilled and not pretentious place, where you can have a really good time.
Charlie P's- Charlie P's is huge in every respect: massive meals, loads of floor space over two story's (it's a pub/restaurant/event space), loud music, plenty of people. Sunday is pub-quiz night, and on Monday evenings there is karaoke, which is loved by locals and expats alike.
Hermann Strandbar– This is an open air bar. It works only in the summer but it is well worth to wait for the opening on 27th March. It's a great place to hang out and enjoy beach atmosphere in the heart of Vienna.  It can be pretty busy on beautiful days, so get there early.
Freiraum– It is a bar, café, restaurant and lounge all in one! It's perfect for a chilled (or not so) night. Cocktails and spirits are at reasonable prices and the food is yummy. It's modern, hip, chill and cool.
1516 Brewing Company– This one is for the beer lovers. It offers a range of delicious beers made on the premises, including a distinctively hoppy lager, a Black & Tan, a cascade hopped Weissebier and their best-selling Victory Hop Devil IPA. The seasonal beers and barrel aged special editions are also excellent and you could spend hours in here trying each on – fortunately they come in four different sizes, ranging from 0.1 to 1.5 litres.
Alternatively to the bars in Vienna you should check out "Museumsquartier" in the summer. It's an area close to the city center with various museums. In the summer it is a very popular location for students as you can bring your own drinks and sit around nicely designed benches.