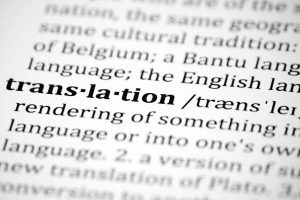 What is a certified translation?
Almost everyone intuitively knows what a translation is, but when does a translation become a certified translation? A translation is a certified translation when it creates a legal record. Different organizations can have different requirements for certified translations, so it's good to choose a translation service that follows the strictest standards. It's also good to indicate beforehand for what purpose you will need the translation, so that you can be rest assured that your translation is 100% accurate and that it answers to all of the requirements
When do you need a certified translation?
The most typical organizations that ask for certified translations include courts, governmental agencies, professional organizations (including World Education Services) and universites. 
Documents that frequently require a certified translation are the following: Academic records or transcripts, birth certificates, customs' documents, driver's Licenses, financial records, immigration & naturalization papers, marriage certificates, medical records, passports, recommendation letters and visas. 
Finding a certified translator
The Austrian Association of Certified Court Interpreters provides a list of certified translators (or court interpreters). After clicking the desired language, you will get a list of all Austrian translators, ordered by postal code.